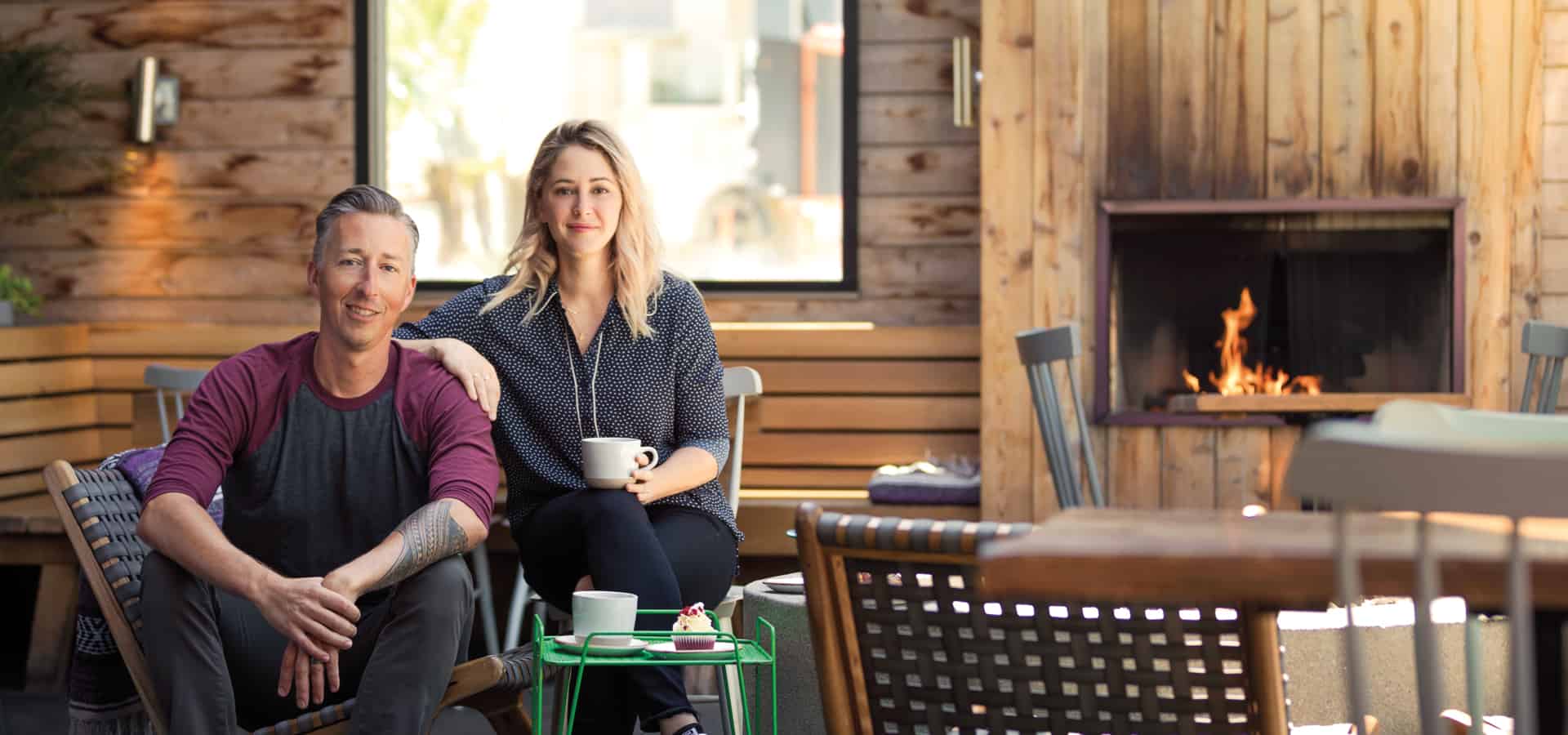 How Chefs Brooke Williamson and Nick Roberts nail success in both work and marriage
Two cooks in the kitchen … and it's a good thing.
Category

Eat & Drink

Written by

Eliza Krpoyan

Photographed by

Jeff Berting
"It's funny how people call it [an empire]. It feels like we have some restaurants," says Top Chef winner Brooke Williamson in response to her six South Bay ventures with her husband, Nick Roberts. Nick modestly says, "One day hopefully it'll be an empire."
Seated in the wood-encased patio of Playa Provisions, we all agree that the self-contained conglomerate is an empire in itself. From the beginning, Brooke and Nick knew they wanted a venture that would be a full-day event from morning to night.
"How many places can you say make sense that they're open at 7:30 in the morning and at 1:30 in the morning?" Brooke muses of Playa Provisions.
"Plans unfold for us very quickly. We're always keeping an eye out, but at this point we're not going to take another opportunity unless we feel like it's a perfect opportunity."
The couple, who met working in a kitchen in Brentwood 18 years ago, shares that Top Chef gave them the courage to open a place like this. "After Top Chef the influx of business was insane," says Brooke. "So we were like, 'You know what? Maybe we can fill up this many seats.'"
To break it down, Playa Provisions is a 7,000-square-foot space housing four restaurant concepts: Small Batch, King Beach, Dockside and Grain. The multi-concept space also features an artisanal retail shop, Tripli-Kit, with every entity designed to potentially stand on its own.
Kitchen supply shop Tripli-Kit was originally behind The Tripel—another of their venues up the street in Playa. Now it's the first thing you see when you walk in.
"We try to focus on things you can't get on Amazon," says Brooke. "Which is very hard," jokes Nick. Such items include knives directly imported from Japan and novelties you didn't know you needed.
"We had all of the concepts in our head already, but the location dictated the possibilities of what it could turn into," says Brooke of a space so large that there was a need to separate it.
When they first envisioned Playa Provisions, the patio and dining room of Dockside would only be available for lunch. But because they needed more places to put people, they opened these spaces earlier for seating. On this sunny morning—fitting the model—a woman sits across a fire pit with her laptop and coffee from counter-service eatery King Beach.
It's not uncommon for locals to work from here in the mornings or to make a pit stop after a bike ride. The 4-year-old dining destination is ingrained into the beach community, especially with the bike path in such close proximity.
"It feels like a natural stop. And we're casual enough to feel like you can come in cycling gear," says Brooke … which is something Nick does often. "We're also very casual people. We would never have a place that we didn't feel comfortable in," adds Brooke.
The patio became a Sunday hangout for Brooke, Nick and their 10-year-old son, Hudson, as they trained for a culinary cycling trip in the Emilia-Romagna region of Italy. Once, after a 14-mile ride, they rewarded themselves with a glass of rosé, a shot of tequila (Brooke) and Swedish Fish.
On choosing their favorite aspect of Playa Provisions, Brooke says that it depends on the time of day. During the summertime at 5 p.m. she loves nothing more than being on the patio. Without hesitation their perennial favorite is the vibe of the Whiskey Bar.
The oldest of their restaurants is Hudson House in Redondo Beach. It's aptly named after their son. Outside, a mural of him snorkeling with a trident in hand has become a community cornerstone.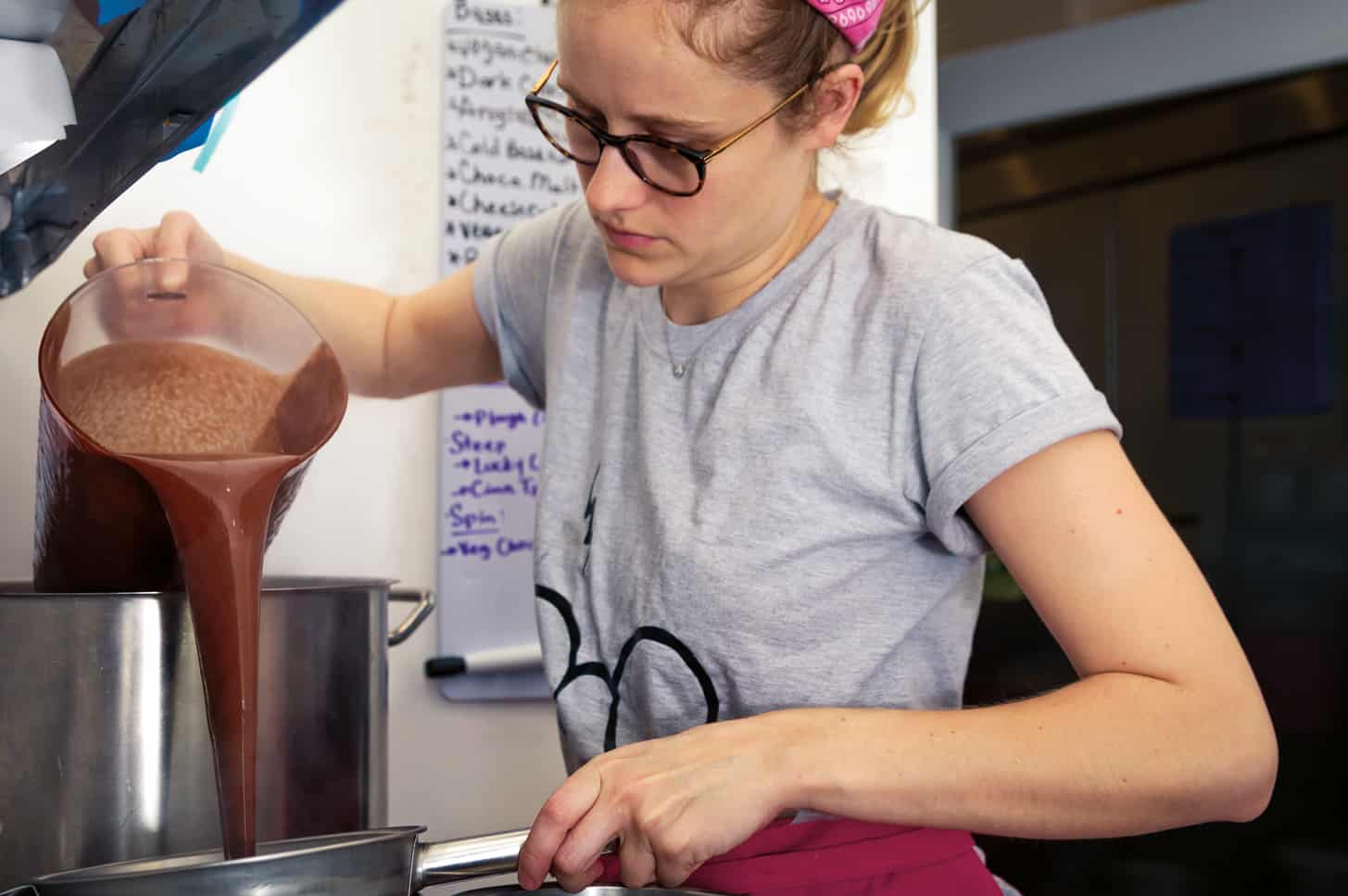 On the horizon, Brooke and Nick will renovate the restaurant of 10 years. "It's had a nice run," says Nick, "and we're going to give it a nice facelift and redo the menu." What will stay the same are the mural and their food philosophy of "keep it simple."
"We naturally don't overcomplicate things because that's just not who we are," says Brooke. "We aim to be approachable but interesting. We both understand you need to keep people entertained and wanting to come back—so you have to have these interesting twists—but I think that most of what we encourage are nostalgic twists. We're not creating things people haven't seen before; we're just doing them in a special way—an up-to-date way," Nick adds.
Beer bar The Tripel derives its name from the address, 333 Culver Boulevard, but it is spelled like Belgian beers. There's also Da Kikokiko, which means "the spot," serving poke bowls and other Hawaiian fare in a fun, midcentury-inspired, geometrical space.
When it comes to dividing up responsibilities, Brooke and Nick avoid delegation. "We go where we feel like we're needed most," says Brooke, "We naturally pick up each other's slack." Chimes in Nick, "It's the only way we know."
Where they spend most of their time depends on the week. Because of the enormity of Playa Provisions, it's often there. When they were short a cook, they were mostly at The Tripel. If there's an event happening at one of the restaurants, they'll be there prepping.
With a handful of flourishing operations, there's always something going on … so much so, it made the most sense for the family to live in nearby Westchester. Like their most loyal diners, it's nice to work and play local.
Although both chefs have been in their share of kitchens with all kinds of progressive techniques, as business owners they agree to err on the side of discretion in application. "We don't use any liquid nitrogen," explains Brooke. "We can, but we don't feel the need to in our restaurants."
The couple balances career and home the same way they balance their work responsibilities: "It just happens." Brooke and Nick made it a point for Hudson to not be raised by sitters and nannies. "We feel like we're in a position where he can be with us a lot," says Brooke. "I think it shows him a sense of responsibility and work ethic to be around it." Hudson helped out at a recent event, and Brooke says with sincerity, "We couldn't have done it without him."
"[Brooke and I] have worked for people who didn't have balance," notes Nick. "They had horrible marriages. We didn't want that." With a laugh Brooke adds, "The restaurant business doesn't breed great relationships."
Brooke and Nick agree that family is #1. "We make that a point with our staff and in our own lives," says Brooke. For Hudson, the restaurants are an extension of their home. "It doesn't feel like we're bringing Hudson to work," says Brooke. "The restaurants are a second home to him."
The same goes for balancing Top Chef with home life and the restaurants, albeit she's no longer shooting months on end. According to Brooke, the most difficult part is the travel.
Over the last couple of years she's become more choosy of the events she's doing and why she's doing them. Before committing to an event, Brooke questions whether it's something she's passionate about, if it's charitable, if it's important for her to be involved in or if it's going to pay her a significant amount that will in turn help their lives.
"I've gotten to the point where I've eliminated the travel just to travel and don't feel like it benefits me to be exhausted for no reason," she shares candidly.
"Coming to that place was very important—and understanding that the restaurants are our first passion and the most important thing. Anything I can do professionally to help that I will do, but not just for my own shits and giggles anymore. If [the travel] makes it so that you can't be an active part of your own life when you come home, I don't think it's worth it."
On the other hand, Brooke and Nick find inspiration from their personal travels … "from the smallest hole-in-the-wall restaurant in Louisville to Tokyo," says Brooke. Nick shares that the majority of their conversations when they're traveling is surrounded around food, design and what the next restaurant can be. "We're both very passionate about the whole evolution of everything," he says.
On plans of opening more restaurants, Brooke says, "Plans unfold for us very quickly. We're always keeping an eye out, but at this point we're not going to take another opportunity unless we feel like it's a perfect opportunity."
Would they open a restaurant outside California? Nick, whose most used app is Zillow, says yes. "If I like a place, I spend the first day-and-a-half saying, 'Look, we can do this here,'" he explains of that potential.
Brooke, however, is hesitant. "I'm a little bit of a control freak," she admits. "I want to see and feel everything. In a way that's small-minded."
Nick jokes, "You have that recorded, right?"
More Stories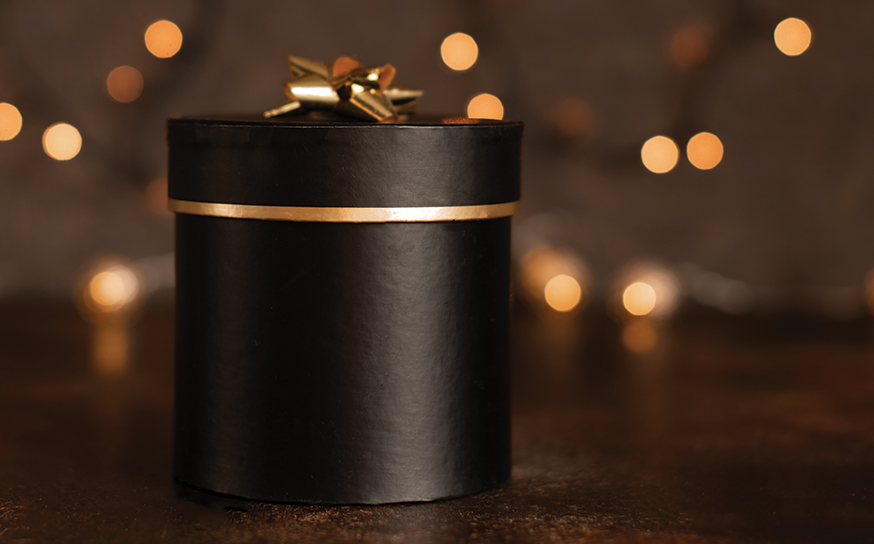 Eat & Drink, Fashion, Homes, People
Our annual holiday gift guide highlights the latest trends in fashion, jewelry and home goods available at local retailers for all of your gifting needs. Don't let the season's best and brightest pass you by!
Eat & Drink
The holidays are here! Our local restaurants are ready to welcome you for a delicious meal or to host a festive event. We offer a closer look at venues ready to take your reservation and give you a memorable dining experience.
Join the Southbay Community
Receive the latest stories, event invitations, local deals and other curated content from Southbay.
By clicking the subscribe button, I agree to receive occasional updates from Southbay.