Umi by Hamasaku brings this popular Japanese fare to El Segundo
Head to the Point to try for yourself.
It's a well-known adage that strength comes in numbers. Such is the case for newcomer Umi by Hamasaku—a seafood izakaya and sushi restaurant in El Segundo opened by partners Jesse Duron, Chef Yoya Takahashi and owner Michael Ovitz.
The 56-seat, clean-lined restaurant—an offshoot of famed Los Angeles eatery Hamasaku, owned by Michael—features an outdoor patio with additional seating; a raw sushi bar serving sustainably-sourced lobster, Baja blood clams and local crab; modern, light-wood chairs and wall panels; curtains from Japan that hang like banners; and select pieces of Michael's art collection such as Japanese woodblock prints on rice paper and vintage samurai and geisha prints.
"The South Bay has a lot of traditional Japanese restaurants, but we wanted to create a new type of dining experience but still use traditional techniques."
On the menu, starters include Japanese Caesar salad with tofu croutons and Umi potato salad with smoked salmon, dill, truffle blue cheese cream sauce, egg yolk and gem lettuce. Izakaya options span spicy tuna crispy rice, miso black cod and shishito pepper with lemon garlic emulsion. Omakase (a Japanese tradition allowing the chef to choose for you) includes an appetizer, two pieces of specialty sashimi, 10 pieces of nigiri sushi and a hand roll.
We sat down with partner and general manager Jesse to discuss location, standout menu items and more.
How did you choose the South Bay?
We're local boys of the South Bay. Chef Yoya moved to the South Bay when he first moved to the states, and I was born and raised in Torrance. We wanted to bring our passion for sushi to the area. We also felt that the area was booming and was in need of a good neighborhood sushi spot.
What was the overall concept?
We wanted to make a new, unique sushi izakaya experience. The South Bay has a lot of traditional Japanese restaurants, but we wanted to create a new type of dining experience but still use traditional techniques.
The most popular menu items?
You can't go wrong with any of the dishes, but chef's favorites are toro carpaccio, roasted cauliflower and dashimaki. These dishes are simple but have a unique Japanese izakaya flavor.
What was the inspiration for the restaurant design?
We wanted the space to have a similar feel to Hamasaku in Los Angeles … Japanese but with modern aspects. We maintained the blonde wood features, reminiscent of Hamasaku. A few pieces from Mr. Ovitz's personal art collection are on the walls, while the curtains hanging from the ceiling were imported from Japan.
What makes Umi by Hamasaku unique?
We pride ourselves on the quality of product we use. We use real red crab, Maine lobster, and our fish is sustainable and never frozen. We also have a raw bar instead of a traditional sushi case like you see in most sushi restaurants.
Are you trying anything different in the El Segundo location?
We are focused on high-quality sushi and Japanese dishes but in a causal environment. We highlight traditional as well as modern izakaya offerings. Chef Yoya likes to feature unique twists on Japanese classics, like our version of the spicy tuna crispy rice made with rice tots.
---
Umi by Hamasaku |  The Point  |  860 S. Sepulveda Blvd., Suite 116, El Segundo  |  310-524-9980  |  umibyhamasaku.com
More Stories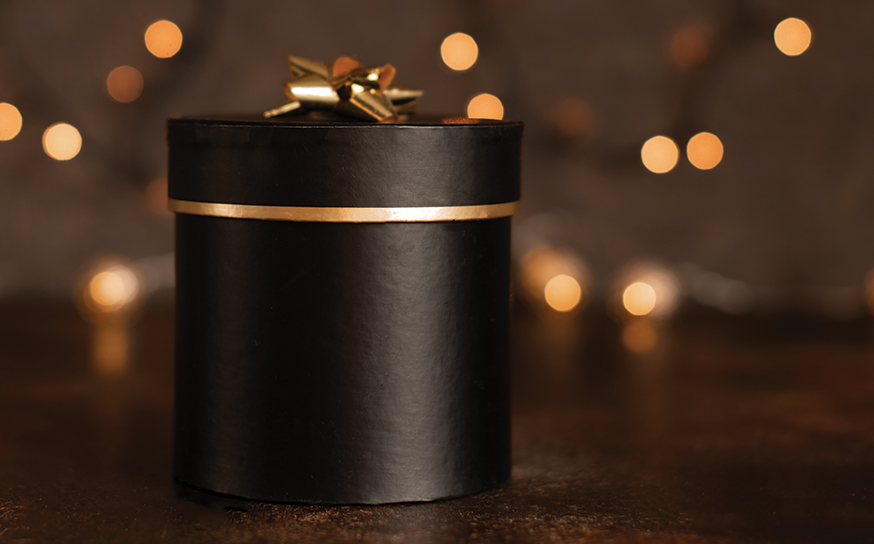 Eat & Drink, Fashion, Homes, People
Our annual holiday gift guide highlights the latest trends in fashion, jewelry and home goods available at local retailers for all of your gifting needs. Don't let the season's best and brightest pass you by!
Eat & Drink
The holidays are here! Our local restaurants are ready to welcome you for a delicious meal or to host a festive event. We offer a closer look at venues ready to take your reservation and give you a memorable dining experience.