South Bay Business Partners Bring Gwyneth Paltrow's Goop Kitchen Home
I was counting down the days for goop Kitchen to open in the South Bay. A renowned lifestyle brand, goop achieved global success thanks to the ubiquitous influence of its founder: actress, businesswoman and aspirational wellness guru Gwyneth Paltrow. With millions of social media fans, her brand enjoys an almost biblical following.
South Bay residents Nathan Tan and Tony Owen of the venture studio DOM Food Group partnered with goop to help operate the business side of goop Kitchen. At its El Segundo outpost, the pair shared the food origins of Gwyneth's business.
"It goes back to 2008 when Gwyneth was living in London," says Nathan. "It started as just an email of recommendations to her friends. The very first email was food-centric—it was sharing her dad's turkey Bolognese recipe. From its inception, food has been a core tenet of what goop stands for. It's this connection between happiness and food. Over time that email grew into a blog, and that grew into an e-commerce site."
"From its inception, food has been a core tenet of what goop stands for. It's this connection between happiness and food."
As the popularity of the brand and site increased, goop transitioned from featuring outside products to showcasing its own branded merchandise. With the transition, goop introduced four key content pillars: fashion, beauty, wellness and food. From the apparel/fashion pillar, they launched the fashion line G. Label. They created clean cosmetics for the beauty pillar and a line of supplements and nutritional powders for the health/wellness pillar.
DOM Food Group—which brings together four partners: Tony, Nathan, Mario Del Pero (founder of Mendocino Farms) and Donald Moore (former chief culinary officer of The Cheesecake Factory)—stepped in to help incubate the business side of the food pillar. The joint venture with goop started gaining traction when the pandemic hit.
"It was one of those moments of clarity that we were seeing around the food space," Nathan explains. "We noticed the trends of off-premises and delivery, which got accelerated in a massive way because of COVID-19." The group recently celebrated the two-year anniversary of the first goop Kitchen location in Santa Monica, and business is booming.
Recognizing that the clean food movement was already gaining momentum, goop sought to accelerate that growth by promoting delicious, satisfying and fulfilling clean eating. "'Clean' is one of those terms that, generally speaking, doesn't have a common definition in the market," notes Nathan. "It's one of those throw-in lines like, 'It's healthy.' We thought there was a real need in the market for someone to clearly define what clean means. So we've developed the goop Certified Clean standard."
The definition of goop Certified Clean, derived from Gwyneth's cookbook The Clean Plate, is no refined sugars, processed foods, gluten, dairy, peanuts or preservatives. "She walks the talk 100%," says Nathan of Gwyneth. "And obviously she's got exquisite taste. She is very involved in the look, feel and aesthetic of the brand. It truly is a partnership."
Within two years, goop Kitchen has opened four Southern California locations, the most recent in Beverly Hills. El Segundo launched in November 2022 and far exceeded the team's expectations.
"The initial reaction in the South Bay has been tremendous," says Tony. "I think what we're seeing here is a slightly different format where it's a little bit more pickup-friendly, which enables us to have a bit more interaction with our guests. We are hearing that feedback firsthand."
When selecting the head of culinary for this venture, the team sought someone who was not only talented, experienced and passionate but also understood the brand. Chef Kim Floresca, who worked in several Michelin-starred restaurants and brings a certain elevation of flavors to the menu, excels in the job. "It's been fun to see her translate that experience into more of a delivery, fast-casual model," says Nathan.
The South Bay location was thoughtfully selected for its adjacency to wellness-focused businesses. Sitting alongside StretchLab, Hot 8 Yoga, Whole Foods and The NOW Massage, goop Kitchen fits right in. There is ample parking for customers and delivery drivers, as well as close proximity to South Bay neighborhoods. Throw in some limited outdoor seats for dining, and it all made sense.
The business sees packaging as an important part of the product, and it has to work with the way the food is going to be consumed. "On average, people aren't eating the food immediately. They are consuming it 45 minutes later," says Nathan. "Therefore, the packaging and even the design of the menu are based on this. When we launched goop Superfina—our pizza and pasta menu—we needed to make sure the optimal amount of sauce gets put into the dish for later consumption, because some of the sauce always gets absorbed." They believe it's these small details that make a difference in the quality of what's being delivered.
Return customers can make use of the loyalty program. For example, one of the top tiers of that program provides members an opportunity to connect directly with the brand and provide feedback. It's a great way for goop Kitchen to connect with their customers and maintain their customer service satisfaction.
Even though they are a digital brand, the group has made a point to do a lot of community-building with the local schools and sports teams, and Nathan and Tony feel completely embraced by the South Bay. In fact, their highest sales day so far coincided with a school PTA fundraiser.
Since 2008, goop has grown into a lifestyle brand that appeals to a broad population. They have a clear understanding of who they are and who they (literally) cater to. Built on that same platform, goop Kitchen taps into people's desire to have easy access to clean food. Bridging the gap between fast, healthy and delicious food might have seemed impossible, but goop Kitchen has stylishly blended those ingredients into a winning recipe.
Gwyneth's involvement in building the business has been key. As Nathan adds, "I think what separates her from some other celebrities who build businesses is that for a lot of people, it's not their day job. CEO of goop is her day job. I mean, she's really running that business. And so she's very involved in what we've been doing, particularly on the culinary side of product development—doing multiple rounds of tastings of everything on the menu. She has a real point of view on what the menu should be."
More Stories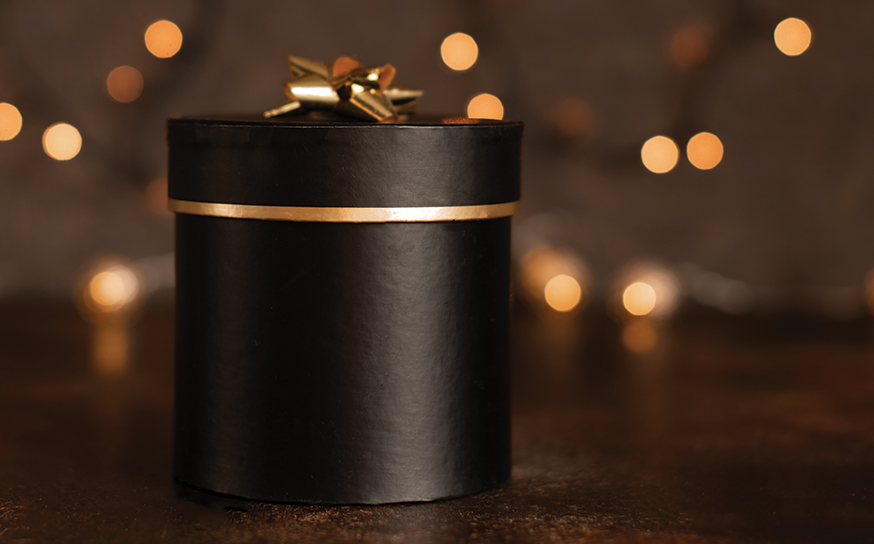 Eat & Drink, Fashion, Homes, People
Our annual holiday gift guide highlights the latest trends in fashion, jewelry and home goods available at local retailers for all of your gifting needs. Don't let the season's best and brightest pass you by!
Eat & Drink
The holidays are here! Our local restaurants are ready to welcome you for a delicious meal or to host a festive event. We offer a closer look at venues ready to take your reservation and give you a memorable dining experience.