We have your summer dishes covered from sunrise to sunset
Category

Eat & Drink

Written & Produced by

Kara Mickelson

Photographed by

Shane O'Donnell
Overnight Matcha-Chia Pudding
This delicious matcha-berry oat pudding is perfect for brunch and lazy summer mornings.
4 Servings

1 cup boiling hot water
1–2 tablespoons matcha powder
½ cup chia seeds, or more as needed
1 cup steel-cut oats
2 cups coconut milk, reduced or full-fat
4 teaspoons lucuma powder
6 tablespoons honey or to taste

Garnish

assorted berries & fruit
toasted coconut
raw almonds
edible flowers
hemp seeds
honey

Combine hot water and matcha until mixed thoroughly. Stir in chia seeds. Add all remaining ingredients except toppings. Stir very well using a fork to break up lumps. Place in refrigerator in serving containers overnight, covered tightly with plastic wrap. Check after two hours and stir in an additional teaspoon of chia seeds if mixture is not setting up. Add toppings just before serving.

Notes: Steel-cut oats will be firm and chewy. For a softer texture, blend pudding in a food processor and spoon into breakfast bowls. Lucuma powder can be found online or at specialty markets; it is used to add sweetness. Using 2 tablespoons of matcha powder will give a heavy matcha flavor.
Farm/Garden Tomato-Herb Pizza
We love pizza … even more if it includes favorite farm-to-table herbs and produce. The dough is inspired by Perfect Pizza Dough in The Bread Bible by Rose Levy Beranbaum.
pizza dough (use recipe provided or store-bought pizza dough or even flatbread)
garlic butter
fresh grated Parmesan or Romano cheese
mozzarella cheese
fresh assorted tomatoes
fresh herbs: basil, oregano, thyme
garlic herb oil drizzle
balsamic crème vinegar

Remove dough from container and roll out between two pieces of parchment paper. Shape dough onto a pizza pan or sheet pan, pressing and lightly stretching to create the shape. Add garlic butter, grated cheese, mozzarella and tomatoes. Cook in a preheated 450˚ oven until cheese melts and crust is light brown.

Add herbs, herb oil, balsamic crème vinegar and extra fresh tomato and just before serving.
Garlic Butter
2 cloves fresh garlic, minced

Cream butter, olive oil and garlic; refrigerate until ready to use. Just before use, heat in microwave until a spreadable consistency for a par-cooked pizza dough or completely melted for raw pizza dough.
Garlic Herb Oil
¼ cup olive oil
2 cloves fresh garlic, minced

juice from ½ lemon
fresh herbs

Pulse all ingredients in a small blender or food processor.
Easy "Peezy" Pizza Dough
Makes one 8- to 10-inch pizza

¾ teaspoon instant yeast
1/3 cup water (70° to 95°)

 

pinch sugar
1 cup Anna Napoletana Tipo "00" extra- fine unbleached flour
¾ teaspoon granulated sugar

 

¾ teaspoon salt
2 tablespoons olive oil

Proof yeast to confirm it is active and fresh before use: Mix yeast and water together. Sprinkle a pinch of sugar in the mixture. Let stand 2 minutes. If the yeast bubbles and looks foamy, it is active. If the water just looks murky without any activity at the surface, the yeast is either too cold or dead. Wait a few more minutes. If nothing happens, start the process again. If the yeast is still inactive, discard it and begin again with a new package of yeast.

Mix flour, sugar and salt thoroughly in a mixing bowl. (Salt kills yeast, so mixing the dry ingredients before adding the yeast is a critical step.) Create a well in the center of the flour. Pour in proofed yeast/water and slowly work into the flour. Start by using a wooden spoon or fork to move the outer flour to the center well of water. The dough will begin to look rugged. Use your hands to press and turn the dough upon itself a few times. Add more water, a tablespoon at a time, if there is still unincorporated flour. Don't overwork or overwater the dough. The dough will be somewhat smooth in texture.

Tuck the edges under the dough while creating a 5-inch disc shape. Place olive oil in a narrow container that will hug the dough disc and support the rising action. Coat dough with oil and place the smoothest side facing up in the container. Cover with plastic wrap, place in a warm, draft-free area and let rise until double in size, about two hours.

---

Notes: Pizza dough can be made one day before using and refrigerated. Let dough rest for 30 minutes before forming, if using chilled dough. Dough can be par-cooked one day before. Cook until pale and cooked through but not brown. Let cool. Wrap tightly and then use within a day. When ready to use, layer with toppings and heat until the cheese melts and the edges are brown. Buy flour online or at specialty markets. Use a thermometer to check temperature of water before adding to recipe. Preferred brand of yeast is Saf-Instant.
Mezze Platter
This "make-it-happen" Mezze Platter is fit for a sultan! It is perfect for on-the-go summer activities such as picnics, concerts in the park, sporting events or pool parties. Use the recipe below as a guide and add or delete as desired. Dip inspired by Beet Puree in Jerusalem: A Cookbook by Yotam Ottolenghi.
Dips
1 container baba ganoush, purchased
1 container hummus, purchased

1 container tzatziki, purchased
Roasted Beet Dip
Assorted Grilled Vegetables (1 to 2 per person), purchased or homemade
zucchini
bell peppers
carrots

red & white onions
hearts of palm, 1 jar, drained

cherry tomatoes
mini-eggplant
Extras
diced cucumber & tomatoes, seasoned & drizzled with olive oil & vinegar, chop & toss

feta cheese, cubed
farmers cheese
stuffed grape leaves, purchased

large caper berries, pickled, purchased
Middle Eastern pickled cucumbers, purchased
Bread
Toasted pita & grilled flatbread, wrapped in foil until ready to use
Fruit
| | | |
| --- | --- | --- |
| | pomegranate, displayed open | |
Garnish
| | | |
| --- | --- | --- |
| | | honey, to drizzle on fruit |
Day Before
Prepare dip and roast or grill vegetables the night before. Store everything tightly wrapped under refrigeration.
Day Of
1 to 2 hours before serving, place dips in well-covered serving bowls or jars with lids. Place dip bowls on serving platter. Artfully arrange fruit and vegetables on platter around bowls. Wrap everything tightly and place in a box in a cooler just before departure. Add disposable serving utensils, fresh herbs and jarred sauces. Drizzle honey and olive oil and add bread just before serving.
Roasted Beet Dip (can be made 2 days before)
4–5 red beets, roasted
(or ready-cooked, pre-packaged)
3 tablespoons Greek yogurt

1 garlic clove, minced
2 sprigs fresh thyme, stems removed
juice of 1 small lemon
½ jalapeño chile, seeded and minced

2 Medjool dates, deseeded
1 tablespoon honey
salt and pepper to taste
2 tablespoons olive oil
Garnish
1 tablespoon Za'atar
olive oil, to drizzle on top

farmers cheese, crumbled
pine nuts
Preheat oven to 450˚. Remove beet stems; wash and scrub beets. Place in foil and coat with oil. Season with salt and pepper. Add fresh thyme sprigs. Wrap tightly in foil and roast at for approximately 40 minutes or until fork-tender.
Remove beets from oven. Let cool to the touch and remove outer skin. Quarter beets. Place all ingredients for the dip into a food processor. Pulse until smooth and creamy. Check flavors. Add more heat, seasoning or honey if desired. Top with crumbled farmers cheese, pine nuts, olive oil and green onions.
Grilled Jerk Jackfruit Flatbread
The Grilled Jerk Jackfruit Flatbread is island-inspired and vegetarian. Marinate overnight or use an Instant Pot pressure cooker for quick and easy jerk flavor.
1 can jackfruit packed in brine
or water (not sweetened or in syrup, preferably Aroy-D)
Jerk Paste

flatbread or tortillas
juice from a navel orange
Mango Slaw

Drain jackfruit and rinse with water to remove extra salt. Coat jackfruit with jerk paste. Marinate overnight or cook for 1 minute on low pressure in an Instant Pot pressure cooker to infuse flavor before grilling.

Heat flatbread or tortillas on a grill or over an open stove top flame using a fork or tongs to flip over. Cook both sides. Reserve.

Grill marinated jackfruit pieces on an oiled grill. If using an outdoor grill, use a vegetable basket or topper to keep the pieces from falling through.

Cook until the edges darken and nice grill marks appear. Flip over and continue to cook the other side. (The key to a nice jerk flavor and texture is getting a decent amount of char on each side without overcooking.) Remove from the grill and squeeze orange juice over jackfruit. Shred or smash pieces with a fork to break up.

Build the flatbread or tacos. Top with jerk jackfruit, Mango Slaw, hot sauce and garnishes.
Jerk Paste
Make up to 1 day before use
1 tablespoon fresh thyme
1 tablespoon garlic powder
1 tablespoon onion powder
½ teaspoon cayenne
2 teaspoons coarse salt
2 teaspoons granulated sugar

½ teaspoon smoked paprika
¼ teaspoon ground cinnamon
¼ teaspoon ground nutmeg
1½ teaspoons allspice
½ teaspoon black pepper, ground
½ teaspoon white pepper, ground

6 garlic cloves, minced
1 cup chopped green onions
2 tablespoons red vinegar
2 tablespoons unsalted butter
1 tablespoon ketchup
1 whole star anise

Blend all ingredients in a food processor until smooth.
Mango Slaw
1 firm ripe mango, small dice
1 red bell pepper, small dice
2 cloves garlic, minced

¼ cup 100% pure coconut water (unsweetened, unflavored)
1 tablespoon vegetable oil
4 green onions, sliced

½ cups purple cabbage, diced
3 tablespoons red wine vinegar
1 tablespoon honey, mild flavor
½–1 jalapeño pepper, minced

Mix all ingredients. If preparing the night before, add mango just before serving. Check flavors and add more pepper for a spicier slaw.
Garnish
sliced cherry tomatoes
fresh cilantro leaves
fresh lime wedges

navel orange, cut into wedges
microgreens
avocado, sliced

jarred peri peri peppers
Caribbean or peri peri hot sauce
Notes: For traditional intense hot flavor, substitute fresh habanero or ghost pepper for cayenne in Jerk Paste or for jalapeño in Mango Slaw. This recipe is also great for chicken. Use 3 to 4 chicken thighs (bone-in, skin-on). Marinate overnight or precook in an Instant Pot for 4 minutes. Transfer to grill. Brush with remaining paste. Add a sprinkle of salt before cooking. Cook until 165˚ internal temperature. Squeeze orange juice over top. Remove chicken from bone and shred or chop. Garnish and serve. (If using a pressure cooker, add ¼ cup of water to bottom of pot before heating.)
Almond Coconut Pineapple Rum
Upside-Down Cake
The island is calling in the form of this perfect Almond Coconut Pineapple Rum Upside Down Cake. Even better, it's gluten-free and addictively delicious.
1 box Simple Mills vanilla cupcake & cake almond flour mix
1 medium pineapple
Pineapple Syrup

zest and juice of 1 lime
1/3 cup unsweetened applesauce
1/3 cup unsalted butter, melted
1/3 cup water
3 eggs
2 tablespoons vanilla

1 tablespoon ground cinnamon
½ teaspoon fresh ground nutmeg
1 teaspoon baking powder
1 can sweetened condensed coconut milk
mint and/or fresh cherries, optional

Butter a 9-inch round cake pan. Sprinkle with a small amount of cake mix and distribute throughout the pan.

Trim off pineapple exterior and top. Slice into 1/8-inch thick rounds. Pare down pine-apple rounds and remove core with a small, circular cookie-cutter or a knife. Slice pineapple into wedges.

Add sliced pineapple to Pineapple Syrup and cook over medium heat until tender. Carefully turn pineapple to coat with syrup. Add water to the syrup if needed to prevent burning. Remove from heat and let steep, covered, for 5 minutes. Carefully remove pineapple and reserve. Reduce syrup until it begins to thicken. Remove from heat and add lime juice and zest. Reserve.

Artfully layer pineapple wedges in the bottom to the pan. Drizzle with 2 tablespoon of Pineapple Syrup. Reserve remaining syrup.

Pour dry box mix into a mixing bowl. Add applesauce, melted butter, water, eggs, vanilla, cinnamon, nutmeg and baking powder; stir completely.

Carefully pour mixture into the prepared pan on top of the pineapple.

Bake at 350˚ per package instructions. If cake is uncooked in the center, cook another 10–15 minutes until a tester comes out clean. Remove from oven and slide a knife around the edge of the cake. Let cake rest in pan 5 minutes.

Carefully unmold and serve warm, or chill and bring to room temp before serving. Top cake with remaining pineapple syrup, warmed sweetened condensed coconut milk, mint and cherries. Cake will last for three days under refrigeration tightly wrapped in plastic.
Pineapple Syrup
½ cup Lyle's simple syrup

3 tablespoons unsalted butter

Heat all ingredients in a medium saucepan, stirring, until butter is melted.

---

Notes: Save any leftover pineapple for fruit salad or add to the Grilled Jerk Jackfruit Flatbread recipe. The almond flour mix, coconut milk and simple syrup can be found online or at specialty markets.
More Stories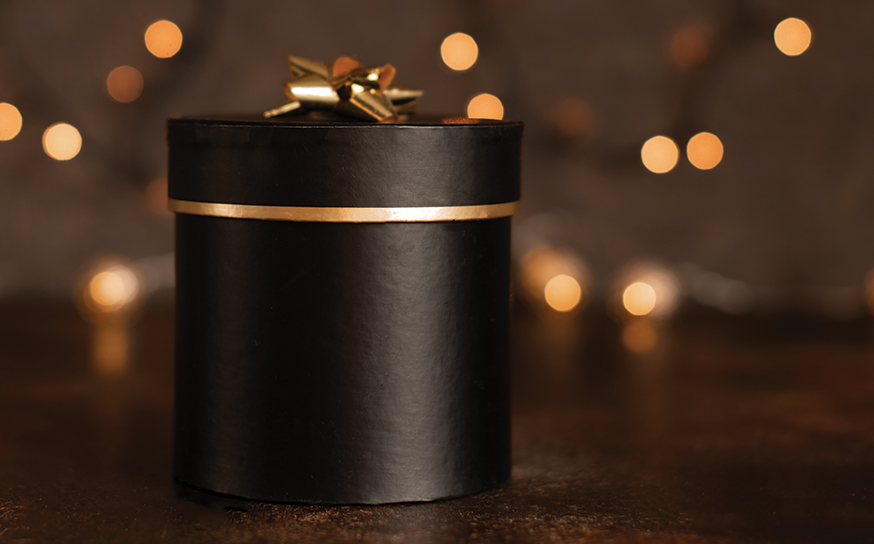 Eat & Drink, Fashion, Homes, People
Our annual holiday gift guide highlights the latest trends in fashion, jewelry and home goods available at local retailers for all of your gifting needs. Don't let the season's best and brightest pass you by!
Eat & Drink
The holidays are here! Our local restaurants are ready to welcome you for a delicious meal or to host a festive event. We offer a closer look at venues ready to take your reservation and give you a memorable dining experience.
Join the Southbay Community
Receive the latest stories, event invitations, local deals and other curated content from Southbay.
By clicking the subscribe button, I agree to receive occasional updates from Southbay.