Mix up Your Menu with a Creative Spin on These Classic Dishes
Category

Eat & Drink

Produced & photographed by

Kara Mickelson

Above

Summer Fruit Shortcake
Summer Fruit Shortcake
(Pictured Above)
Serves 2
---
No need to suffer the heat of the oven on a hot day. These gluten-free honey almond cornmeal biscuits can be whipped up in a jiffy using the microwave. Add fresh seasonal fruit for a delicious dessert in minutes.
½ cup blanched almond flour
¼ cup cornmeal
2 teaspoons baking powder
pinch kosher salt
2 large eggs, beaten
2 tablespoons mild olive or vegetable oil
2 tablespoons honey, plus extra to drizzle
1½ teaspoons almond extract
1½ teaspoons vanilla extract
2 teaspoons Frangelico liqueur (optional)
2 teaspoons apricot jam (optional)
½ cup fresh sliced strawberries
1 nectarine, seeded and sliced into small wedges
½ cup Rainier cherries, seeded
Honey Yogurt Whipped Cream (see recipe)
In a small bowl, whisk together almond flour, cornmeal, baking powder and salt until thoroughly combined. Add eggs, oil, honey, and almond and vanilla extracts to the dry ingredients. Mix completely. Fill 2 (4-ounce) ramekins with equal amounts of batter. Place one ramekin in the microwave and heat on high for approximately 1 minute. The batter will rise while cooking. Carefully remove (ramekin will be very hot). Place on a wire rack to cool for 1 minute before unmolding. Repeat cooking steps for second ramekin. Biscuits can be made one day in advance. Cool and store wrapped or covered under refrigeration. Heat for 15 to 20 seconds in the microwave before serving.
Slice biscuits, creating a top and a bottom, and place on individual plates or a platter. Dip a pastry brush into the liqueur and brush on the top of the biscuit base. Spoon a teaspoon of apricot jam on the base of each biscuit or drizzle with honey. 
Add sliced strawberries on top of biscuits. Arrange the rest of the fruit on the plate or platter surrounding the biscuits. Top each biscuit base with a large dollop of Honey Yogurt Whipped Cream. Add the top biscuit and drizzle with more honey.
•••
Honey Yogurt Whipped Cream
¾ cup heavy whipping cream, cold
2 tablespoons plain unsweetened Greek yogurt
1 to 2 tablespoons honey
Using a stick blender with the whisk attachment or a wire whisk by hand, whip cream until soft peaks form. Whip in yogurt and honey. Add more honey to taste. Whip until stiff peaks form. Make up to 1 day in advance and store covered under refrigeration. Whisk briefly to combine before serving.
Crispy Plantain Patties
Serves 4–6 as side dish
---
Serve these crispy, gluten-free plantain patties instead of frozen hash browns. They fry up crunchy and hold their shape, making them the perfect burger bun or breakfast side dish.
2 large green or light green plantains
2 tablespoons tapioca starch, or more as needed
1 teaspoon kosher salt
¼ cup grated white onion
1 teaspoon garlic powder
¼ teaspoon onion powder
1 teaspoon fresh ground pepper
1 lemon, juiced and seeded
vegetable oil
Wash plantains and use a knife to remove the fibrous peel. Grate plantains with a box grater. Place all the ingredients except oil in a large bowl. Mix thoroughly. If the mixture is wet, add 1–2 additional teaspoons of tapioca starch. If the mixture feels dry, add 1 tablespoon of oil.
Place 3 tablespoons of oil in a large cast- iron skillet or heavy-bottom pan and heat to medium-high. Scoop ¼ cup of plantain mixture into pan. Press down with the back of a spatula or a spoon to create a 4-inch circle. Repeat this step with the remaining mixture. Don't overcrowd the pan, as you will need room to flip them over to cook both sides. 
Cook for about 3 minutes over medium-high heat or until the plantains are light golden brown and crisp. Adjust heat as needed to achieve a golden exterior. Flip and cook the other side for about 2–3 minutes or until crispy and light golden brown. Serve immediately or cool and store covered in refrigerator. Before serving, reheat in a pan or over medium-low heat until warm throughout. Plantains can be made 1 day in advance but will taste best the day they are made.
Grilled Tuna Fish & Chips
Serves 4
---
Fire up the grill with this healthy take on fish & chips. We're not fishing for compliments, but we think you will love this seafood swap.
2 large russet potatoes
¼ cup salt
¼ cup vegetable oil (such as grapeseed or safflower)
2 teaspoons kosher salt
2 teaspoons fresh ground black pepper
4 tuna steaks (about 6 ounces each)
extra-virgin olive oil
3 teaspoons kosher salt, divided
3 teaspoons freshly ground pepper, divided
2 tablespoon crushed coriander seeds
Olive Butter (see recipe)
3 small lemons & 1 small lime, cut into wedges
To make the fries, heat grill to medium-high (450º). Lightly oil a large cast-iron skillet and place a sheet tray near the grill for cooked fries. Cut potatoes lengthwise into batons that are ¼-inch thick and 3½-inches long. Place potatoes in a bowl of water to cover. Add ¼ cup salt and stir with your hands to release the starch. Chill in refrigerator for 20 minutes or overnight. 
Drain potatoes and dry well with paper towels. Place in a bowl or plastic bag and drizzle with oil to coat. Sprinkle with salt and ground pepper. Mix ingredients to evenly coat potatoes. Place potatoes in oiled skillet, leaving space in between potatoes so they don't steam. (Cook in batches if necessary.) Cook potatoes for 30–35 minutes or until light golden brown and crispy on the edges. Flip fries with a spatula only if they are getting too crispy on the bottom. Transfer cooked fries to a sheet tray and place on top rack of grill to keep warm until all potatoes are cooked. 
Start tuna steaks after fries have cooked for 25 minutes. Dry tuna steaks with paper towels to remove any moisture. Rub each side of steaks with olive oil and season generously with salt and pepper. Place tuna on grill and cook without turning for 3½ minutes or until grill marks are visible. Flip steaks and cook another 2½ to 3½ minutes. 
Top each steak with an equal amount of crushed coriander seeds and a teaspoon of Olive Butter. Finish cooking until an internal temperature reads 125º to 130º for sushi-grade tuna (rare inside) or 140º to 145º (medium to well) for frozen/defrosted fish on an instant-read thermometer. Transfer to a serving plate. Squeeze a wedge of lemon juice and place a slice of Olive Butter on top. Serve with baked fries and citrus wedges on the side.
•••
Olive Butter
1 stick (4 ounces) unsalted butter, room temp
1 teaspoon kosher salt
2 garlic cloves, minced
2 tablespoons chopped green onions (about 2)
¼ cup sliced green olives, seedless
1 tablespoon rough-chopped parsley leaves
1 tablespoon rough-chopped oregano leaves
Combine all ingredients in a small bowl. Place in refrigerator for 30 minutes or until slightly firm. Remove from refrigerator and place on a sheet of parchment paper or plastic wrap. Roll into a 2-inch-by-4-inch log and place into refrigerator for at least 1 hour. Butter can be made 2 days in advance if stored tightly wrapped under refrigeration.
Fruit & Nut Breakfast Porridge
Serves 2 (10-ounce bowls)
---
In place of oatmeal, try this grain- and dairy-free breakfast porridge. It's light yet filling and chock-full of high-fiber fruits, warm coconut milk and crunchy tropical nuts … like sunshine in a bowl!
1 large ripe mango, peeled, seeded & cubed
6 dried plums, pitted
2 Medjool dates, seeded
8 macadamia nuts or Brazil nuts
½ cup watermelon, cut in 1-inch cubes (red or yellow)
1 can light coconut milk
⅛ teaspoon ground cinnamon 
1 banana, cut in 1-inch cubes (optional)
½ fresh ginger, peeled, sliced or grated (optional)
Place all ingredients into a medium saucepot. Heat to a simmer. Remove from heat and ladle equal amounts of the porridge into the bowls.
More Stories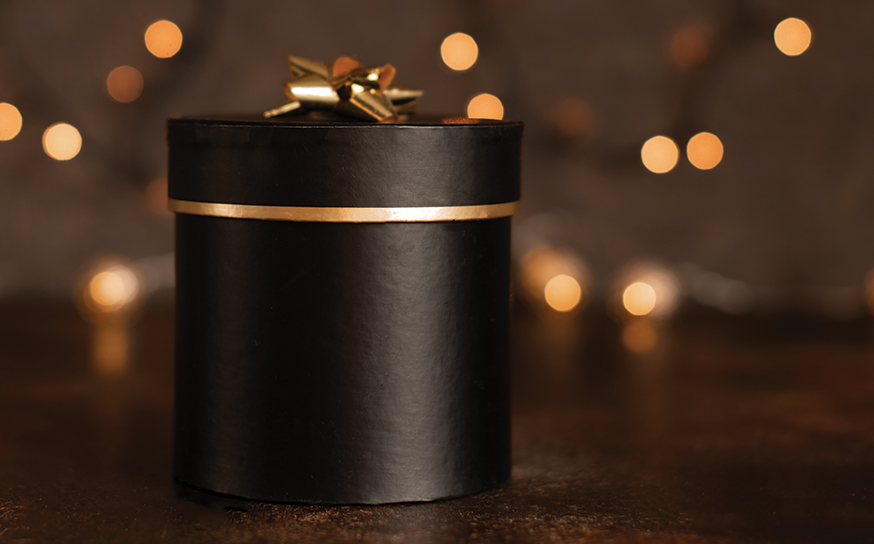 Eat & Drink, Fashion, Homes, People
Our annual holiday gift guide highlights the latest trends in fashion, jewelry and home goods available at local retailers for all of your gifting needs. Don't let the season's best and brightest pass you by!
Eat & Drink
The holidays are here! Our local restaurants are ready to welcome you for a delicious meal or to host a festive event. We offer a closer look at venues ready to take your reservation and give you a memorable dining experience.
Join the Southbay Community
Receive the latest stories, event invitations, local deals and other curated content from Southbay.
By clicking the subscribe button, I agree to receive occasional updates from Southbay.