Don't Let the Packaging Fool You. These Summer Wines Are More than Drinkable
Among the many trends impacting wine sales in the United States, one of the most observable—outside those oceans of prosecco and dry rosé—is the movement toward alternative packaging. While traditional 750mL glass bottles continue to dominate the market, this vessel is actually not ideal for preserving the grape juice within. Sunlight, heat and oxygen are the collective enemies of wine preservation, and glass bottles even when finished with screw-tops allow too much of all three to affect the wine inside.
Enter the bag-in-the-box … in the fridge! By hermetically sealing the wine in a plastic bag and boxing it in recyclable cardboard with directions to place it in a temperature-controlled environment like your fridge, a winemaker can eliminate these threats in one sustainable package. Like glass or stainless steel, plastic is inert—so it does not impact the flavor of the wine. By keeping the wine box inside the fridge, one can eliminate the impact of both heat and sunlight.
Bags-in-the-box typically contain 3L of wine, which is the equivalent of four traditional glass bottles. The carbon imprint of boxed wine is dramatically less than what it takes to bottle and transport the same volume of juice in glass. Portability, sustainability, durability—what's not to like?
The answer typically has been the wine inside. Too often, the proverbial "bottom of the barrel" bulk grape juice was destined for boxed wines in an example of the classic quality-versus-quantity conundrum. A nameless relative of mine charmingly used to keep a heretical box of Franzia white zinfandel in his fridge, just in case I visited. That box lived there for nearly a decade, I think, untouched and unimproved by its long shelf life.
But what if winemakers committed to putting higher-quality grape juice into a box? Would consumers go for it?
One of the most successful recent examples of this gamble comes from the esteemed winery Tablas Creek in Paso Robles. Owner Jason Haas boldly boxed up some of his coveted 2021 rosé typically bottled in 750mL glass and launched it via email to his customer database. He was astonished to see the first run of boxed rosé sell out in just four hours.
But what if winemakers committed to putting higher-quality grape juice into a box? Would consumers go for it?
"I trust our customers," he notes on the decision to embrace nontraditional packaging. "I also trust our ability to make the case to them why they should take a fresh look at something (like the box) that offers them benefits in storage, weight and longevity while also being a better choice in terms of carbon footprint. We heard from lots of customers that it was the first box they'd ever bought and they were having fun confounding their friends. Everyone likes to be a trendsetter!"
Tablas Creek now offers three of its Rhône-inspired blends in boxes, and each deserves a place in your fridge. A note on serving reds, by the way: Far too many consumers drink their reds at overly warm temps, but icy cold isn't ideal either. Find a beautiful glass carafe and fill it with the amount of red you think you'll need for dinner. Allow it to come to just under room temp as you cook.
A different business model altogether is to start with boxed wines as a standalone product, and that's just what Really Good Boxed Wine (RGBW) has done. Committed equally to sourcing great quality wines and to sustainable packaging, RGBW only sells wine in boxes—and it's seriously good wine. RGBW claims that its four-bottle box has a shelf life of up to six weeks, but I found it to last much longer than that in terms of taste and quality.
Another caveat to the boxed wine movement is monitoring consumption. Most of us estimate that a bottle of wine is about four big pours, which means a 3L box should have about 16 glasses. It's harder to tell how much you're drinking when the wine is hidden inside the box, so being mindful is important.
The RGBW boxes are all priced around $60 to $65 retail, so you're paying only about $4 to $5 per glass if you do the math right. At this price point, these wines are an incredible steal.
COO Amy Troutmiller comments, "The biggest challenge for marketing our wines is absolutely the consumer perception that U.S. bag-in-box is only two things: cheap and low quality. Consumers don't expect single-vineyard, AVA-designated wine in this format, so we have a lot of education to undertake."
Troutmiller also cites the value that RGBW products deliver. "When people understand that we are offering a 40% to 50% savings over the same quality wine in bottles, they can easily grasp the savings in addition to all the benefits boxed wine offers," she notes.
Americans tend to be mavericks in many aspects of winemaking, whereas Europe tends to be more limited by both tradition and legal constraints. That's why the Sandy wines imported from Italy by Massanois are so fun. Founded by industry vet Amy Ezrin and made with grapes farmed organically by Conti Degli Azzoni in the La Marche region, Sandy wines are proof positive that Italian wines also shine in the boxed format.
I especially enjoyed the Rosie Giovese, a deadly delicious rosato wine made from 60% sangiovese, 30% merlot and 10% lacrima. At only $30 a box, this rosé is a must-have for the summer months.
Happy sipping! 
Recommended Boxes
Below is listed a trio of recommended boxes to try. Each of these wines can last the whole summer season, but it's doubtful they'll survive that long in your fridge once you taste how good each one is.
White
Really Good Boxed Wine, 2021 unoaked chardonnay (Yakima Valley, Washington), $60 per box  |  reallygoodboxedwine.com
Refreshing with notes of Granny Smith apple and white nectarine, it's incredibly delicious for about $4 a glass. 
---
Rosé
Rosie Giovese, vino rosato (Montefano, Italy), $30 per box  |  missionliquor.com
Notes of fresh, juicy strawberry and orange peel make this dry rosato difficult to resist. The perfect box for poolside sipping and an amazing value at this price.
---
Red
Tablas Creek, 2021 Patelin de Tablas (Paso Robles, CA), $95 per box  |  tablascreek.com
This spicy blend of syrah, grenache, mourvèdre and counoise marries the complexity of each Rhône grape to the Paso Robles sunshine. The alternative packaging means you're only paying about $6 a glass. We've paired this wine with Santa Maria tri-tip, hoisin-glazed ribs and basic burgers. So, so, so good.
More Stories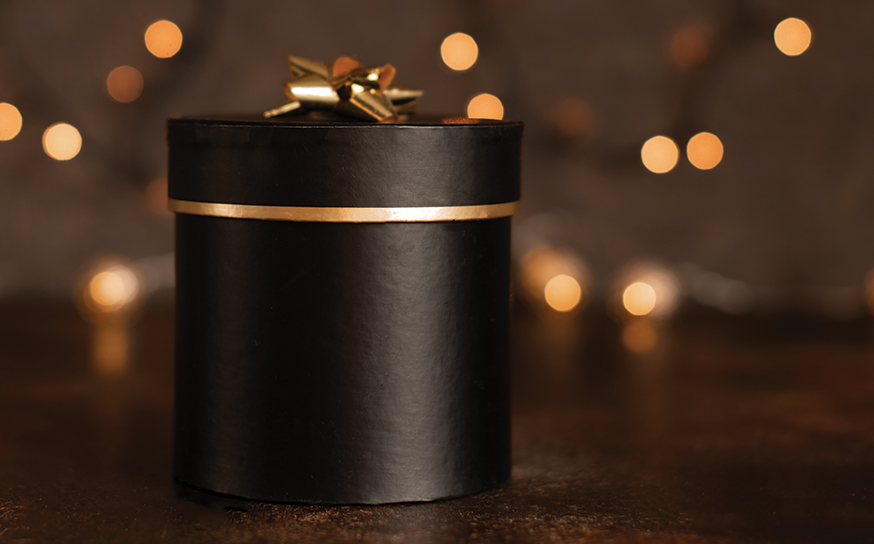 Eat & Drink, Fashion, Homes, People
Our annual holiday gift guide highlights the latest trends in fashion, jewelry and home goods available at local retailers for all of your gifting needs. Don't let the season's best and brightest pass you by!
Eat & Drink
The holidays are here! Our local restaurants are ready to welcome you for a delicious meal or to host a festive event. We offer a closer look at venues ready to take your reservation and give you a memorable dining experience.
Join the Southbay Community
Receive the latest stories, event invitations, local deals and other curated content from Southbay.
By clicking the subscribe button, I agree to receive occasional updates from Southbay.