Brighten Your Spring Table with These Vibrant and Delicious Salad Recipes
Category

Eat & Drink

Produced & photographed by

Kara Mickelson at Styled Delicious
Pictured above
Mediterranean Tuna "Teaser"
Serves 2 
---
Imagine a decadent French pan bagnat sandwich coupled with a modern take on a Caesar salad. This beautiful, delicious salad pairs two classics to delight your taste buds. Gourmet tuna, Persian cucumber, cherry tomatoes, red onion, radishes, romaine lettuce and fresh dill are topped with briny olives, capers and Parmesan for a Caesar-like dressing with a Euro-Mediterranean twist. 
2 romaine lettuce hearts, washed and trimmed, divided
3 radishes, thinly sliced
¼ cup diced Persian cucumber
¼ small red onion, thinly sliced
handful cherry tomatoes, halved
1 jar high-quality tuna packed in oil, drained
2 hard-boiled eggs, halved or quartered
2 tablespoons roasted, salted pumpkin seeds
kosher salt, to finish
fresh ground pepper, to taste
Divide lettuce on two large plates or one large platter. Top with equal amounts sliced radish, cucumber, onion, tomatoes, tuna, eggs and pumpkin seeds. Spoon dressing (recipe at right) onto salad. Finish with a sprinkle of salt and fresh ground pepper; garnish with dill sprigs. Add a slice of warm Parmesan toast (recipe above, right) to each plate and serve immediately. 
---
Toasted Parmesan Bread
2 slices French baguette, sliced diagonally
olive oil
Parmesan
Drizzle bread with olive oil and top with Parmesan. Toast until light golden brown. 
---
Dressing
¼ cup mild olive oil (or half olive oil/half avocado oil)
1 medium lemon, juiced and seeded
2 ounces Castelvetrano olives, pitted 
2 medium garlic cloves, peeled
1 tablespoon capers, drained
2½ ounces Parmesan, finely grated, divided
¼ teaspoon kosher salt
⅛ teaspoon ground white pepper
freshly ground black pepper
1 teaspoon fresh dill, minced (plus dill sprigs for garnish)
In a small bowl, slowly stream olive oil into lemon juice while whisking. Mince olives, garlic and capers together, creating a fine paste, and add to olive oil/lemon base. Stir in 2 ounces Parmesan, salt, white and black pepper, and dill. Adjust seasoning as needed. Cover and refrigerate. Can be made one day in advance; let dressing come to room temp before serving. 
Southeast Asian Mango Chicken Salad
Serves 2 to 4
---
Fresh herbs like mint and basil add an extra layer of spring deliciousness to this salad. Crunchy and hearty cabbage and bok choy are so satisfying as an alternate salad base to lettuce. Topped with shredded, poached chicken breast, sliced onion, carrots and a sprinkle of peanuts and sesame seeds, this salad is terrific as an entrée for lunch or dinner. 
2 star anise
1-inch piece cinnamon stick
3 whole cloves
2 tablespoons whole coriander seeds
1 boneless chicken breast
½ cup snow peas
¼ medium white onion, sliced thin (soak in cold water 5 minutes)
1 medium carrot, peeled and sliced into 1-inch matchsticks
3 cups shredded Napa or Savoy cabbage (1 small)
1 to 2 baby bok choy, sliced thin (stem and leaves)
1 small head radicchio, trimmed
2 scallions, sliced thin diagonally
1 mango, peeled, seeded and sliced into ¼-inch strips
perilla (sesame) leaves, optional for garnish
fresh Thai green and purple basil 
fresh mint 
¼ cup micro or regular cilantro 
¼ cup skinless raw peanuts, halved or crushed
1 tablespoon raw sesame seeds
lime wedges
Place spices in a medium saucepot that will hold a steamer basket. Heat spices over medium heat until aromatic. Add approximately 2 inches water to pot (or until it reaches bottom of steamer). Bring water and spices to a boil and lower heat to simmer. Place chicken in steamer, cover and cook 12 minutes or until internal temperature is 170º. 
Remove chicken and add snow peas. Cook covered for 40 seconds or until bright green. Remove snow peas and place in a bowl of cold water to stop cooking process, then drain. Let chicken cool before shredding with a fork.
In a medium bowl combine onion, carrot, cabbage, bok choy, radicchio and scallions. Add chicken, mango and enough vinaigrette (recipe below) to lightly coat salad. Toss to combine. 
Arrange the sesame leaves, if using, on individual plates or a platter, then place salad on top. Wash and trim herbs by removing stems and tearing any large leaves. Garnish salad with herbs, peanuts, sesame seeds and lime wedges. Serve immediately. 
---
Vinaigrette
4 limes (4 tablespoons juice, plus garnish)
1 tablespoon sesame oil
2 to 3 tablespoons fish sauce
1 tablespoon real maple syrup
2 tablespoons water
2 garlic cloves, peeled and minced
½ teaspoon red Thai, serrano or jalapeño chili, seeded and diced
Juice 3 limes and whisk with sesame oil, fish sauce, maple syrup and water. Stir in garlic and chili. More chilies can be added, so err on the side of less. Taste vinaigrette with a piece of cabbage. Adjust taste as needed, adding more lime, fish sauce, water or oil. 
Wine Country Escarole with Melon & Prosciutto
Serves 2 to 4
---
A refreshing yet hearty salad of slightly bitter escarole, manchego, goat cheese, prosciutto, French melon and marcona almonds is the perfect mix of salty and sweet. Easy to assemble and with a "wow" presentation, this delicious dish takes almost no time to whip up and is the perfect spring salad for dining alfresco.
1 mini Charentais melon
1 medium escarole head, washed, trimmed
1 small red-leaf lettuce, washed, trimmed
¼ medium red onion, sliced thin
¼ cup mild goat cheese
1 ounce manchego or Parmesan cheese
4 slices prosciutto or serrano ham
¼ cup marcona almonds
olive oil
salt & pepper
fresh tarragon sprigs
grissini (breadsticks) for garnish
Slice melon in half horizontally. Remove seeds and cut one half into ¼-inch thick crescent-moons before removing the rind. 
Hand-tear escarole and lettuce into bite-size pieces. Arrange on individual plates or a large platter and layer melon, onion and pieces of goat cheese on top. Use a sharp knife or vegetable peeler to cut manchego cheese into shavings. Tear prosciutto into 3-inch pieces. Just before serving, artfully arrange prosciutto, cheese shavings and almonds on the salad. 
Drizzle with vinaigrette (recipe below) and olive oil; season with salt and pepper. Garnish with fresh tarragon leaves and grissini. Serve immediately.
---
Sherry Citrus Vinaigrette
3 tablespoons sherry vinegar
1 tablespoon mild honey
1 small mandarin or clementine, seeded and juiced
¼ cup mild olive oil, plus more as needed
1 small shallot, minced
¼ teaspoon kosher salt
pinch ground white pepper
fresh ground pepper 
Whisk together vinegar, honey, mandarin juice and olive oil. Whisk in shallots, salt and pepper. Store refrigerated in a covered container for up to 3 days. 
More Stories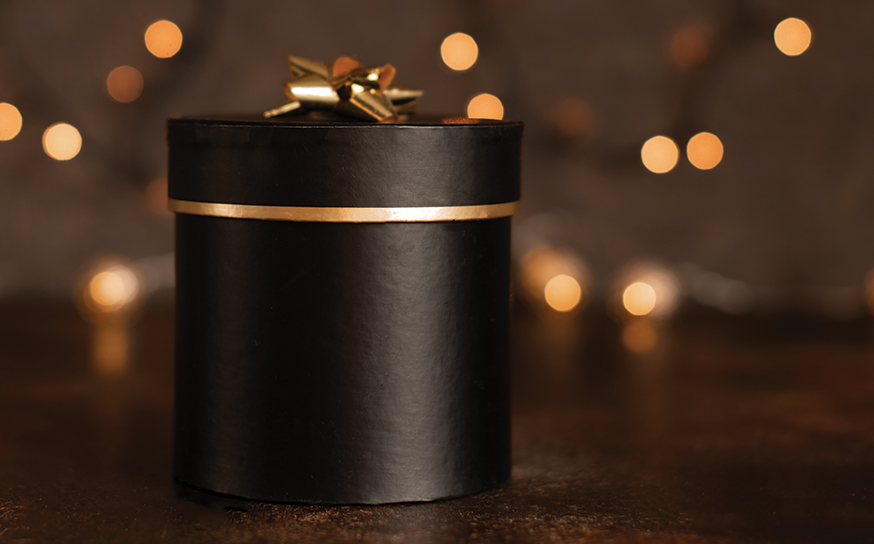 Eat & Drink, Fashion, Homes, People
Our annual holiday gift guide highlights the latest trends in fashion, jewelry and home goods available at local retailers for all of your gifting needs. Don't let the season's best and brightest pass you by!
Eat & Drink
The holidays are here! Our local restaurants are ready to welcome you for a delicious meal or to host a festive event. We offer a closer look at venues ready to take your reservation and give you a memorable dining experience.
Join the Southbay Community
Receive the latest stories, event invitations, local deals and other curated content from Southbay.
By clicking the subscribe button, I agree to receive occasional updates from Southbay.