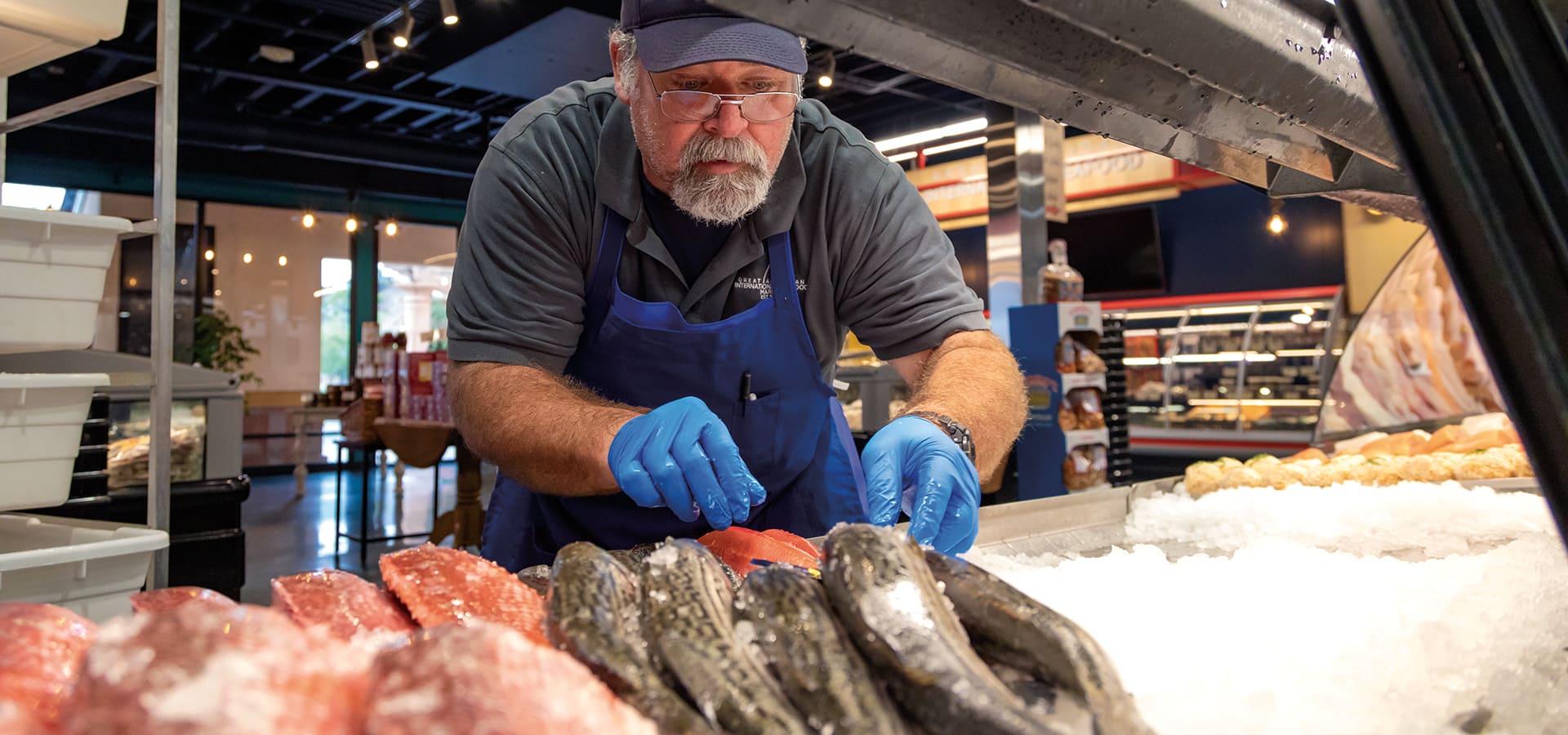 A Palos Verdes Family Propels Their Immigration Story Into an American Dream
Fishermen often tell stories of the "big one" that got away. In this story, the "dream catch" is not an exaggeration.
On a cold, snowy day in 1946, a 6-year-old Sebastiano "Buddy" Galletti arrived at Ellis Island with his father and younger brother Joe. It was his first experience seeing snow and his first ride in a taxi.
The journey from Sicily to America—on a converted merchant marine ship—was difficult. On one occasion the seas were so rough, Buddy's father had to use his own belt to secure his son to a nearby post. The crowded steerage held 200 people; some were sick, coughing and vomiting.
His brother contracted measles. Upon arrival, Buddy was vaccinated. He spent two weeks in quarantine, because of his brother's illness, before heading to St. Louis to be with his mother and older brother.
Fast-forward to today. Buddy's granddaughter Gail, sitting nearby with her young son at their new family business, Great American International Seafood Market in Rancho Palos Verdes, had never heard that story before.
Opening a small retail space on the Peninsula has long been Buddy's dream. Born out of those early experiences and anchored by their perseverance, determination and strong bond, the Galletti family finally made the dream a reality.
While he shared the story of his arrival to America, Buddy's demeanor was pleasant with no bitterness, no lamenting about a hard start at life in the United States. He made only a passing reference to the dramatic emotion he felt when his mother and older brother traveled to America a year earlier to prepare the legal documents for the remaining family to follow. Only 4 years old at the time, Buddy didn't understand his hurt feelings. He thought he was abandoned by his mother.
In reality, she was deeply hurt by the experience of being without her young son. When reunited in America, he rejected her at first but then quickly warmed up to her again. She was an essential part of his life. Even the strain of separation could not change that bond.
His story hints at a healthy sense of resilience and grit—both necessary traits for a successful entrepreneur. He is also a dedicated family man—dad, grandfather and great-grandfather—who over the years worked tirelessly to achieve his dreams.
Buddy's father taught him about hard work and respect at a young age. He recounts that his father went to the corner store and asked the owner if he would give his "12-year-old son a job." The store owner said he couldn't pay, and his dad said in a thick Italian accent, "Please put my son to work. You don't have to pay him!"
Buddy handled the used, empty bottles that needed to be separated and returned to vendors. He smiles and emphatically states, "That was the worst job I ever had!" He would start work at 3 p.m. after school and made 25 cents an hour.
He speaks of his father, Salvatore, a nine-year veteran of the Italian navy, with great affection and respect. Galletti family members were commercial fishermen in both Sicily and the United States. But immigrating to America was not a smooth transition. Italians were regulated to small immigrant enclaves. He didn't learn English until he arrived in the States, taught by Catholic nuns. The family was not able to get housing outside an area called Little Italy on the east side of Detroit.
Like many Italian families, resources were pulled together. Over the years the Gallettis created businesses and work opportunities that would set the path for future success, learning and growing with each new endeavor.
"Four grandkids work at the market. Sebastian and Francesca manage the day-to-day work at the store, sharing their knowledge about seafood with customers. Joey Perri works weekends, and Gail manages the website, social media and marketing."
At age 14, Buddy worked part-time at a meat department. A union representative came into the store and said Buddy needed to join. Even though he was underage, the rep demanded the $5 fee. He didn't have the money on him but was able to scrape up the required funds and join.
When the family moved to California, he was 17 years old and already a union member for three years. He went to the union hall and applied for a job. He was challenged, as he was not the required age of 18 to join. That's when he showed them his union card from Detroit. As a result, he was able to retire from the union fully vested after 10 years—at the age of 24. Buddy proudly acknowledges that he still receives a $78 per month pension. His persistence and hard work at a young age paid off.
Around 1975 he decided to start a wholesale business with his brothers Joe and Al. In the beginning the company consisted of three brothers, a brother-in-law, a bookkeeper and a driver. They were selling the "finest fresh and frozen seafood" available to supermarket chains.
Buddy says he always dreamed of walking into a store one day and buying whatever he wanted. His dedication to building a better future for himself and his family fueled his strong work ethic. He hasn't forgotten the journey to where he is now, and he is quick to acknowledge that he doesn't take anything for granted. Life still happens regardless of big dreams.
The new store on the Peninsula was a lifelong dream to bring the success and resources of the wholesale business to a boutique, family-friendly, unique retail space—a place that would offer a great product and become a trusted community source for fresh seafood and specialty products.
Four grandkids work at the market. Sebastian and Francesca manage the day-to-day work at the store, sharing their knowledge about seafood with customers. Joey Perri works weekends, and Gail manages the website, social media and marketing. His daughter, Maria Perri, creates delicious recipes—green salads, seafood salads, salsas, marinades and dips—that are available for purchase at the store. Encouraging extended family members to work and learn at the market gives Buddy a great sense of pride.
Buddy's sons Sam and Paul and his son-in-law Sal are all key partners and owners in the broader wholesale business, Southwind Foods/Great American Seafood Imports Co. Beyond being a family-owned business, the Gallettis have employees who have worked with them for more than 40 years, helping build a half-billion-dollar wholesale brand.
With the smaller retail market, the focus is on the sustainable, fresh product and personal interactions with their direct customers, while leveraging their extensive resources, relationships and successful manufacturing practices in the wholesale business.
Tim Aupperle figures in as the director of retail and marketing operations and co-owner. Before joining the Gallettis, Tim was the regional seafood coordinator for Whole Foods Market. He worked with animals on his dad's small farm when he was about 7 years old, raising livestock for food. As a young teenager, he went to work in a small neighborhood Italian deli. By the time he was 17, he had learned the art of meat-cutting and became the meat/seafood manager at Handy, a small, family-owned market in Burbank. He also worked in packing houses, as a meat jobber, delivering sides of beef to markets around southern California, as well as running $100 million meat and seafood operations.
With more than 40 years of experience in the meat and seafood industry, Tim has developed trusted partners throughout his employment. He worked alongside a global team to design Whole Foods' animal welfare standards. He worked at Whole Foods for 28 years and was their seafood and meat coordinator for more than 24 years.
At the new market, the team is focused on developing relationships with local suppliers and supporting communities that provide excellent products. By supporting sustainable practices, they aim to create long-term relationships and have access to high-quality goods today and in the future by protecting the natural resources.
Beyond high-quality seafood, they offer a diverse line of cooked, raw, bulk and packaged shrimp, fish filets, steaks, portions and whole fish, salads, seafood salads like tuna, salmon, lobster and poke.  They also have a gourmet foods section filled with unique tinned seafood, akin to products sourced in the gourmet markets of Spain, Portugal and Italy.
The store has a neighborhood feel, with specially made cases in the center for frozen seafood. They smoke their own salmon, make a salmon "candy," and Tim's famous recipe for green chili smoked salmon dip is available for purchase. Tim's mother and grandmother inspired him to cook at a very young age. One day he hopes to publish a cookbook that would include recipes inspired by his mom.
Ask him about his favorite products, and you will likely get a story about the flavor profile, its origin and processing methods. The Paolo Petrilli jarred tomatoes they offer are raised in a town that dates back to the year 1000. The tomatoes are grown organically, handpicked and jarred in La Motticella just outside Lucera in Italy's Puglia region, known for some of the best vegetables and olives in the world.
Tim also speaks highly of the Marilungo egg pasta line they carry. It cooks in 90 seconds. It is the Pope's preferred pasta, served at the Vatican. They also have a good selection of high-quality olive oil.
Watch out for continuing community events, like the recent shrimp fest, and specials for the holiday season, such as Maine lobster and sustainable Tsar Nicoulai caviar from 100% white sturgeon. If you want recipe suggestions, they have that too. Ask the staff or browse the website or social media platforms.
Tim says their customers are educated and savvy about fish. Most of their fish is processed through the Gallettis' 160,000-square-foot processing, storageand distribution facility located in Carson, California, which is also the corporate office. Additional sales offices in New York, Texas and Arizona, and processing and distribution facilities in Salt Lake City, Utah and Las Vegas, Nevada, support sales and distribution to all 50 states.
Southwind Foods' import division, Great American Seafood Imports Co., was established in 2003. It operates as the company's overseas procurement division, processing 115+ million pounds of seafood per year.
While the new Rancho Palos Verdes market has an established global network to rely on, they also work directly with local fishermen and trusted suppliers to get the best offering. That's good news for customers wanting the freshest products, from a variety of seafood to daily specials.
They will gladly scale, clean, filet or shuck anything to order. Delivery is also available online. The boutique seafood store is focused on a comfortable neighborhood feel, allowing the Gallettis and co-owner Tim to connect directly with the customer. Their long history of success in the seafood industry is sure to continue as they foster new relationships on the Peninsula, just as they've done as a family for generations.
Join the Southbay Community
Receive the latest stories, event invitations, local deals and other curated content from Southbay.
By clicking the subscribe button, I agree to receive occasional updates from Southbay.