A Healthy Harvest
The talented chefs at Terranea Resort serve up local farm-to-table goodness all season long.
What began as a modest garden nestled among avocado and lemon trees at Catalina View Gardens has evolved into splendid culinary offerings at Terranea that are a local salute to sustainability. Executive Chef and VP Culinary Experiences, Bernard Ibarra, has had a love affair with the earth and the sea since his childhood near San Sebastián, Spain, and his reverence for nature's gifts has been a mainstay of his life and his career. With his contagious adventurous spirit, he has opened community doors and inspired the Terranea team to embrace his passion for both farm-to-table and sea-to-table programs at the resort.
Growing fresh produce was naturally at the forefront of Chef Ibarra's vision. Much to his delight, an off-property garden took root in the fall of 2013 after a chance conversation with Rancho Palos Verdes landowner and farmer Jim York.
"Mr. York was having dinner at mar'sel the first time we met. When we talked, we realized that we shared a passion for farming. By the end of our conversation, he offered some of his land for Terranea to use for a garden," he recalls.
Chef Ibarra bought seeds and plants from nearby nurseries and planted tomatoes, leeks, lettuces, chili peppers and herbs. During the first year he personally cared for the garden in between his regular resort responsibilities.
"One day I forgot to turn the water off before returning to Terranea. When I went back and discovered a small lake, I realized that I needed help," he says with a smile.
Other chefs were recruited from his staff, and in 2015 a special projects position was created for sous chef Blake Hale to oversee the garden. Kale, strawberries, onions, potatoes, eggplant, squash and more greens were added to the original crops. Beekeeping was implemented for pollination purposes, which not surprisingly evolved into Chef Ibarra donning a beekeeper's suit and tending to over 120,000 bees.
With the farm-to-table program established, Chef Ibarra soon set his sights on bringing more than fish from the sea to the resort's tables. He began to collect water from the ocean for in-house sea salt production, which led to the official inauguration of the resort's salt conservancy on Earth Day in April 2015.
Over 300 pounds of nutrient-rich salt are now produced each year—some of which is infused with Meyer lemons, sage, kelp, rosemary, pinot noir wine and strawberries. It is used in cooking for special events like monthly Sea Salt Workshops, gifts in VIP welcome packages, salting margaritas and is for sale at sea beans.
While gathering saltwater, Chef Ibarra was always mindful of the kelp at his feet. "Like anyone who goes to the beach, I used to pick up things without giving it much thought—as I did with kelp a while ago," he says. "We buy kelp and seaweed from suppliers, and it suddenly occurred to me to harvest it as food from the beach below the resort. One day last summer I took a bucket and filled it with kelp, and I took it to the salt conservatory where I washed it and dried it. It looked great and smelled like the ocean!"
After the kelp was dry, Chef Ibarra decided it would be great to use for fish stock and cooking. Then, according to him, a "kelp angel" suddenly crossed his mind.
"I wondered if I should check to see if what I was doing was OK. So I called the Department of Fisheries in Sacramento, and I was surprised to learn that you must have a permit to harvest kelp," he explains. "When I heard that, it felt as if I was on the freeway and slamming on the brakes!"
He continues, "A fisheries representative explained to me how kelp is a very important part of the ecosystem. When I responded that it was already broken and lying on the beach, I was told that there is a distinct purpose for it … such as food or a home in the natural world. That is when I realized that we humans do things that we think are right because it suits us.
The kelp gave me an additional level of respect for the sea and nature."
Holding a kelp harvester license, Chef Ibarra collects kelp and seaweed to use for seasoning in savory and sweet dishes, to jellify ingredients, bread-making, in vegan recipes and eventually for spa treatments. "It is very rich in iodine, so cooking with it not only makes a great seasoning but it also makes a dish healthier. There is no limit to what we can do with kelp creatively!"
Chef Ibarra is always exploring ways to expand Terranea's already rich sustainability program. Six chickens recently joined the Terranea family and took up residence at the nearby Catalina View Gardens. The flock was a gift from a local family and is comprised of three Rhode Island Reds, one Australorp, and two Orpington chickens; they are named Parmesan, Fricassee, Chicken Little, Chick-a-dee, Benedict and Chicklet.
There are plans to triple the size of the flock by summer. The eggs are used for special dishes at Nelson's, mar'sel, and sea beans and are offered as an in-room dining option.
Given his Spanish roots, it was simply a matter of time before Chef Ibarra's culinary journey included olives. In 2017 the Terranea chefs rolled up their sleeves and assisted with a full day of harvesting five varietals of olives (Frantoio, Moraiolo, Amfissa, Leccino and Manzanillo) at a local orchard owned by the Bizoumis family for the resort's first olive oil production.
The olives were cleaned and crushed on-site by a Temecula-based commercial company with traveling machinery and presses. A limited production yielded 20 gallons of olive oil for the resort.
"No chemicals or pesticides are used to grow the olives. Instead the trees are sprayed with clay that encases the fruit to keep the pests away, as it was done in the Mediterranean thousands of years ago. The olive groves are beautiful, and the white trees look like a Christmas photo!" exclaims Chef Ibarra.
The oil is flavored with herbs, Meyer lemons, pink peppercorns or smoke and is offered at special events and, like the sea salt, is for sale at sea beans. The 2018 olive harvest will be increased and will include olives from the Catalina View Gardens trees. In celebration, an olive harvesting festival will educate guests about the process, and a Chef's Table special dinner event with an olive-centered menu is scheduled for October 4.
SUMMER AT NELSON'S
House Smoked Baby Back Rib Sandwich
Serves 4
Pairing: Humboldt Brewing Co. Brown Hemp Ale

smoked ribs (recipe below)
BBQ sauce (recipe below)
4 hoagie rolls, toasted
1 red onion, sliced about ¼-inch thick
pickles (recipe below)

 

Brush rib meat with BBQ sauce and place either on a grill or under a broiler. Allow sauce to caramelize onto the meat. Place boneless rib on bottom bun of a hoagie roll cut in half. Top with sliced red onion, pickles and more sauce. Serve immediately.
Ribs
1 tablespoon garlic powder
1 tablespoon onion powder
3 tablespoons salt

1 tablespoon black pepper
1 tablespoon paprika
3 tablespoons brown sugar

1 teaspoon red chili flakes
5 pounds baby back pork ribs

Combine garlic powder, onion powder, salt, black pepper, paprika, brown sugar and red chili flakes. Generously rub spice mix onto the baby back ribs. Place ribs into a smoker and smoke for 3 hours at 275º or until tender. While ribs are still hot, gently twist each rib bone until it loosens, then carefully pull out the bone. The end result should be a boneless rack of ribs. Cut the rack into 4 equal portions.
BBQ Sauce
1 cup prepared yellow mustard
¼ cup honey, mild flavor
¼ cup light brown sugar

¼ cup white vinegar
1 teaspoon ground black pepper

Combine mustard, honey, brown sugar and vinegar in a saucepan and bring to a simmer. Cook while stirring for 5 minutes. Remove from heat. Add pepper to taste. Reserve.
Pickles
4 pickling cucumbers, sliced thin
½ white onion, medium dice
½ green bell pepper, medium dice
1 whole garlic clove, chopped

1½ tablespoons salt
½ cup cider vinegar
1 cup granulated sugar
1 teaspoon mustard seed

½ teaspoon celery seed
2 whole cloves
½ teaspoon ground turmeric

In a large bowl, combine cucumbers, onion, green bell peppers, chopped garlic and salt. Marinate for 3 hours, refrigerated. Combine cider vinegar, salt, sugar, mustard seed, celery seed, cloves and turmeric into a saucepan and bring to a boil. Drain liquid from cucumber mixture and pour into boiling vinegar mixture. Remove from heat. Transfer pickles into a sterile container and chill before serving.
Michael Cruz, Chef De Cuisine, Nelson's and Bruce Nguyen, Executive Sous Chef
FALL AT BASHI
Fried Whole Fish With Sweet & Sour Sauce
Serves 2
Pairing: Takatenjin Soul of the Sensei (Junmai Daiginjo)

1½ pounds whole cleaned Baja striped bass
2 cups all-purpose flour
2 tablespoons vegetable oil
1 tablespoon minced ginger
1 tablespoon minced garlic
1 whole red bell pepper, medium dice
1 whole yellow bell pepper, medium dice
1 whole medium red onion, diced
sweet and sour sauce (recipe below)
½ cup chopped green onion
½ cup cilantro, stems removed

 

Dredge whole fish in flour and deep-fry until internal temperature reaches 145º; set aside. Heat a sauté pan with oil; add ginger, garlic, bell peppers and red onions. Cook for 5 minutes. Set aside until ready to use.

Place fish on a large plate. Pour sweet and sour sauce over. Top with the sautéed peppers and onions. Garnish with green onion and cilantro.
Sweet And Sour Sauce
3 cups water
½ cups white vinegar
½ cup ketchup

1 cup white sugar
½ cup soy sauce
2 tablespoons slurry (1 teaspoon cornstarch with 2 tablespoons water)

Mix all ingredients in a pot except for slurry and bring it to a boil. Simmer for 10 minutes and slowly add the slurry to thicken the sauce. Reserve.
DJ Eusebio, Chef de Cuisine, Bashi
To experience these dishes and learn more about Terranea's culinary offerings, please call 855-416-3928.
More Stories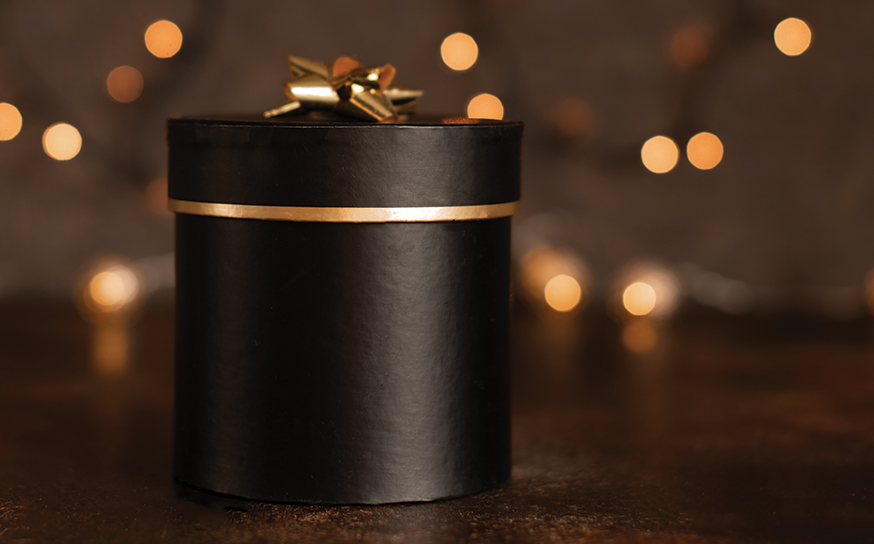 Eat & Drink, Fashion, Homes, People
Our annual holiday gift guide highlights the latest trends in fashion, jewelry and home goods available at local retailers for all of your gifting needs. Don't let the season's best and brightest pass you by!
Join the Southbay Community
Receive the latest stories, event invitations, local deals and other curated content from Southbay.
By clicking the subscribe button, I agree to receive occasional updates from Southbay.